RealMax Qian is a standalone AR headset with a field of view surpassing 100 degrees, the design of which allows users to experience an immersive power of AR. Qian glasses contain compelling features: It offers an ultra-wide angle display, performs 6DoF tracking and enables users to enjoy a full mobility while wearing the headset. The smart glasses have been evolved from a captivating prototype at CES 2018 to actual production hardware at CES 2019, and returned to Las Vegas as a mature product, which have been well-received at CES 2020.
"AR glasses in the past were like screens. Now RealMax Qian allows you to have a larger field of view. You can see the digital model as real as it is physically existed. You can walk into it, interact with it, and even talk to it. The glasses can change every strict reality into a rich and interesting world."- RealMax AR Team
"Along with hand gesture control, easy switching between AR and VR mode using a clip-on shade, and precise IMU and tracking and positioning function, RealMax Qian will provide users with a total immersed experience, similar to the rumored Apple Glasses." - WFXG
RealMax Qian features a wider field of view than any other currently on the market. When wearing Qian, you will be feeling that you are surrounded by the virtual content, but still able to see the real world. In other words, you are part of what you are watching as opposed to just the feeling that you are looking at a small screen that has been placed in a headset.
With the 119.5 degrees field of view, RealMax Qian can fill enough of your eye space, offering a much more immersive AR experience. The picture you see through our glasses is almost double the width of other AR glasses who have a relatively small FoV of about 40 to 50 degrees. Peripheral view is also maintained through the windowed side panels, completing an intensively immersive viewing experience that will be exciting for all wearers.
RealMax Qian is paired with binocular 6 Degree-of-Freedom tracking and a 9-axis IMU sensor so that wearers can move around in a 3D space and see virtual objects that appear to be real.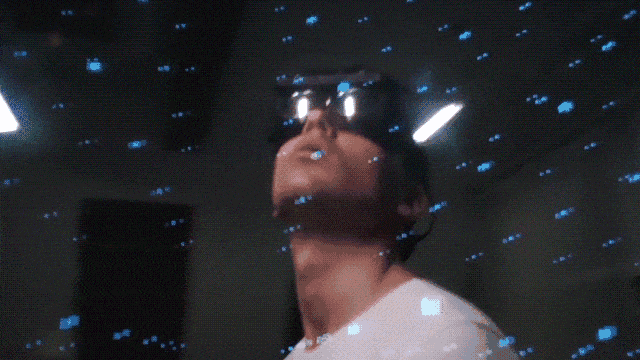 With all its sensors and two ultra-wide-angle cameras, Qian can track your position smoothly and knows well your position as well as the rotation of your head. What's more, the 6DoF tracking enables the glasses to keep 3D content solid. If you place a 3D model in your room, walk all way around your home and then come back, the module will be still staying there.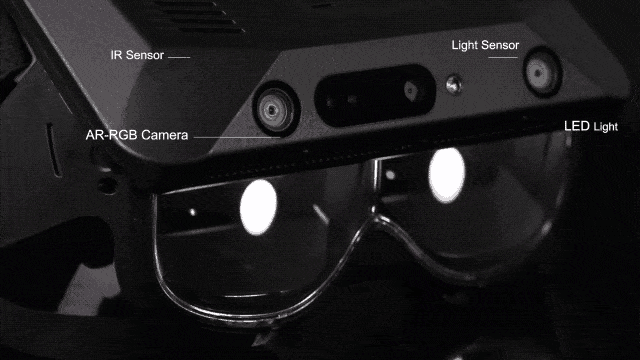 RealMax Qian does not require tethering to an external device or computer. It is self-contained. The glasses can also be used in large-multi-user environment. By connecting multiple headsets on the same wireless network, wearers can interact with one another using digital objects within an actual physical space. Feel free to go anywhere with Qian!
The Qian does not only empower you to see the real world mixed with virtual content, but also provide you with a fully immersive VR viewing experience. The headset can be easily converted to VR mode with a magnetic VR cover. By snapping on the cover, you can enjoy VR at any time. Buy one RealMax Qian today and enjoy two kinds of immersive experience at home.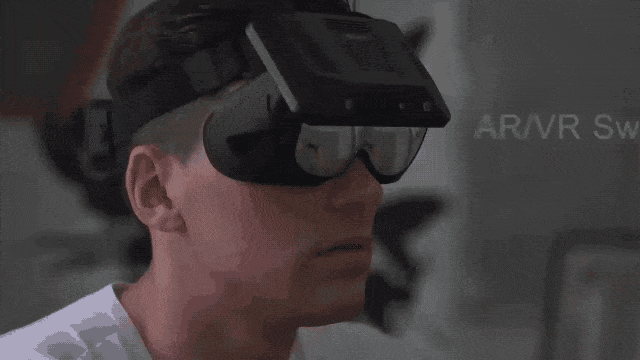 The optics of RealMax Qian features a two-layer lens design which allows you to clearly see the outside world. At the meantime, others will not able to see contents shown in the Qian glasses from the outside and your privacy is perfectly protected. If you use Qian on the road during a business trip, there is no need to worry about revealing business secrets. If wearing Qian at home, you will feel like owning a private cinema. What an amazing experience enjoying digital contents while not losing scenes in the real world.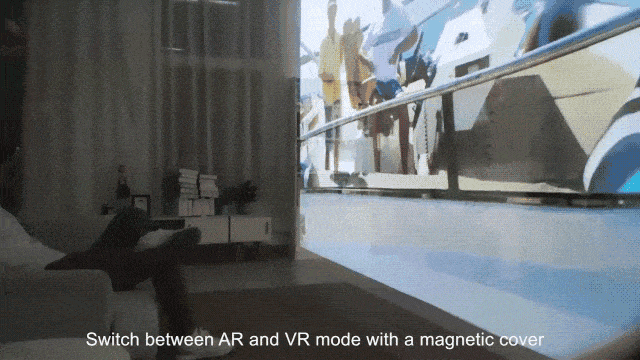 RealMax Qian is user-oriented that it works on top of most prescription eyewear. There is no need to take off your own glasses before having Qian on. This smart headset enables you to wear your eyeglasses underneath itself and to see everything clearly.
The RealMax Qian was designed with consumers in mind. It is lightweight, untethered, and user-friendly. Qian's fit system fully considered face and head shapes for extended use. Its two side windows also enable wearers to see the real world while they are surrounded by digital contents, delivering a much more immersive viewing experience.
RealMax Qian uses Qualcomm Snapdragon 835, the same CPU you would find in a top-end smart phone.
Qian has exceptional battery life with a 6000mAH removable, fast-charging battery. It can support 5-hour use and 100-hour standby.
The structure of Qian glasses is sophisticated and comprehensive. In order to achieve a perfect fit for both the optical module circuit and face shape difference, engineers have tried and tested hundreds of brackets, and finally chose the one that you can experience today. When it comes to the assembly of the optics and bracket, the dust-free assembly robots have been iterated for three times to meet the high requirements in quality and user experience. The RealMax AR team has also been very strict with the optical calibration. Only after passing three optical inspections, one automatic robot correction, and 90 tests, the optical lenses can be considered as "qualified". Our engineers have devoted years of hard work to make RealMax Qian a high-quality AR headset.
With the technology of 6DoF tracking and positioning technique, an immersive and intuitive interaction with virtual objects using only bare hands is available on RealMax Qian. By connecting a Leap Motion sensor to the headset USB port or using Fingo hardware*, wearers can interact with the digital and real-world content with their hands and fingers being accurately localized. A basic controller is also provided for supporting such interactions. Apps are stored within the headset and you can find more AR/VR games that support gesture interaction in RealMax AppStore.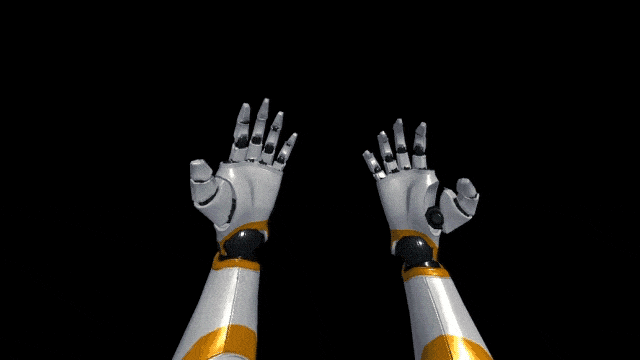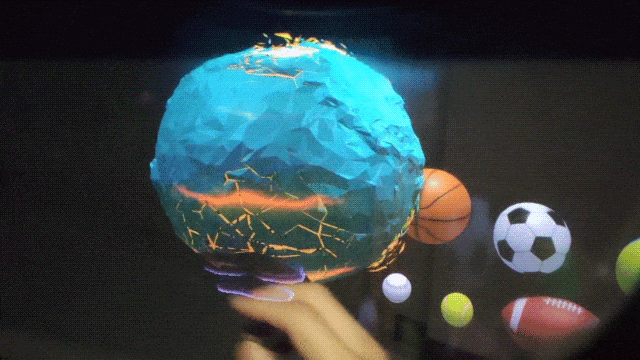 RealMax Qian offers an App on Cloud XR that users can connect the headset to Steam© without using cables. System requirement (Minimum): A 64-bit processor and an operating system, OS: Windows 10 64bit only, Processor: Intel Core i7 9th Gen or AMD equivalent, Memory: 16 GB RAM, Graphics: NVIDIA GTX 1070, Network: Broadband Internet connection.
How to connect to Steam©:
The glasses place us in the middle of action coming from a variety of apps. Users can explore multiuser sporting challengers, engage in immersive adventure games and play in interactive music systems.
Snap on a magnetic VR cover to switch to VR mode. Play VR games using Steam© Valve, wireless streaming or a NOLO module*.
* Peripheral devices supported: Gaming experiences will be enhanced through the use of plug-in USB 3.1C modules such as Nolo wireless devices, Leap Motion hand tracking and Fingo hardware. Please note that these devices are not included with the glasses.
The Qian has its own application store. The device is supported by a constantly growing number of apps including everything from cooking guides to interior design measuring tools. We will provide more applications in the future to expand your AR experience.
RealMax is providing an open source platform enabling the creation of almost any kind of application. We are open in four key ways:
Open Unity interfaces that even allow access to low level android functions.
Open hardware interfaces to support a growing array of devices.
Open XML support to allow anyone to create AR interactive scenes
Open Web support to allow 3d through a browser.
Please note some of the third party plugins are not included. Developers need to purchase the plugins themselves using the information provided by RealMax.
The Qian is in wide use today for employee training, remote support, K-12 education, and advanced research. The glasses can also be applied to medical and industrial scenarios, along with customized applications for different uses.
You may have visited a VR Experience Hall, but have you heard of AR Experience Hall? RealMax has innovatively proposed a scheme called AR Science Wonderland: an immersive and holographic AR Theme Experience Hall. The scheme employs a comprehensive package of self-developed hardware, game software and solutions of venue design. In addition to products and built-in games, we will provide you with free game updates and comprehensive venue design solutions, including game introduction, poster design, venue fence design, display rack design, visit coupon design and staff clothing design.
We always try our best to provide our clients with the most comprehensives services and help them to establish their own business at a lower cost in a more convenient way. Come and join us today! Start a business at a low cost.
"Realmax has officially taken its AR/VR ambitions from dream to reality."Qian actually contains some compelling differentiators: It's lightweight, tetherless, and offers a very wide-angle video display by augmented reality headset standards."
"The goggles use stereoscopic 1080p display to deliver a dramatically more powerful AR experience than Microsoft's HoloLens. It runs on Qualcomm Snapdragon 835 system on chip."
"At a fraction of the price of a HoloLens or Magic Leap One, RealMax Qian may represent an enticing option for early adopters who are looking for a living room AR experience on a budget."
"We're still waiting for the day when augmented-reality glasses will make the leap from development hell to true consumer tech. RealMax is pushing the market one step closer to fruition with its Qian headset."
"RealMax Qian Review & Features: #1 Mixed Reality Glasses? | The RealMax Qian is an AR and VR headset rolled into one package. In this guide, we take a look at the Qian and how it performs for augmented and virtual reality gaming and day-to-day tasks."
Check Out the video on CES 2020 By MRTV - MIXED REALITY TV
119.5°FOV